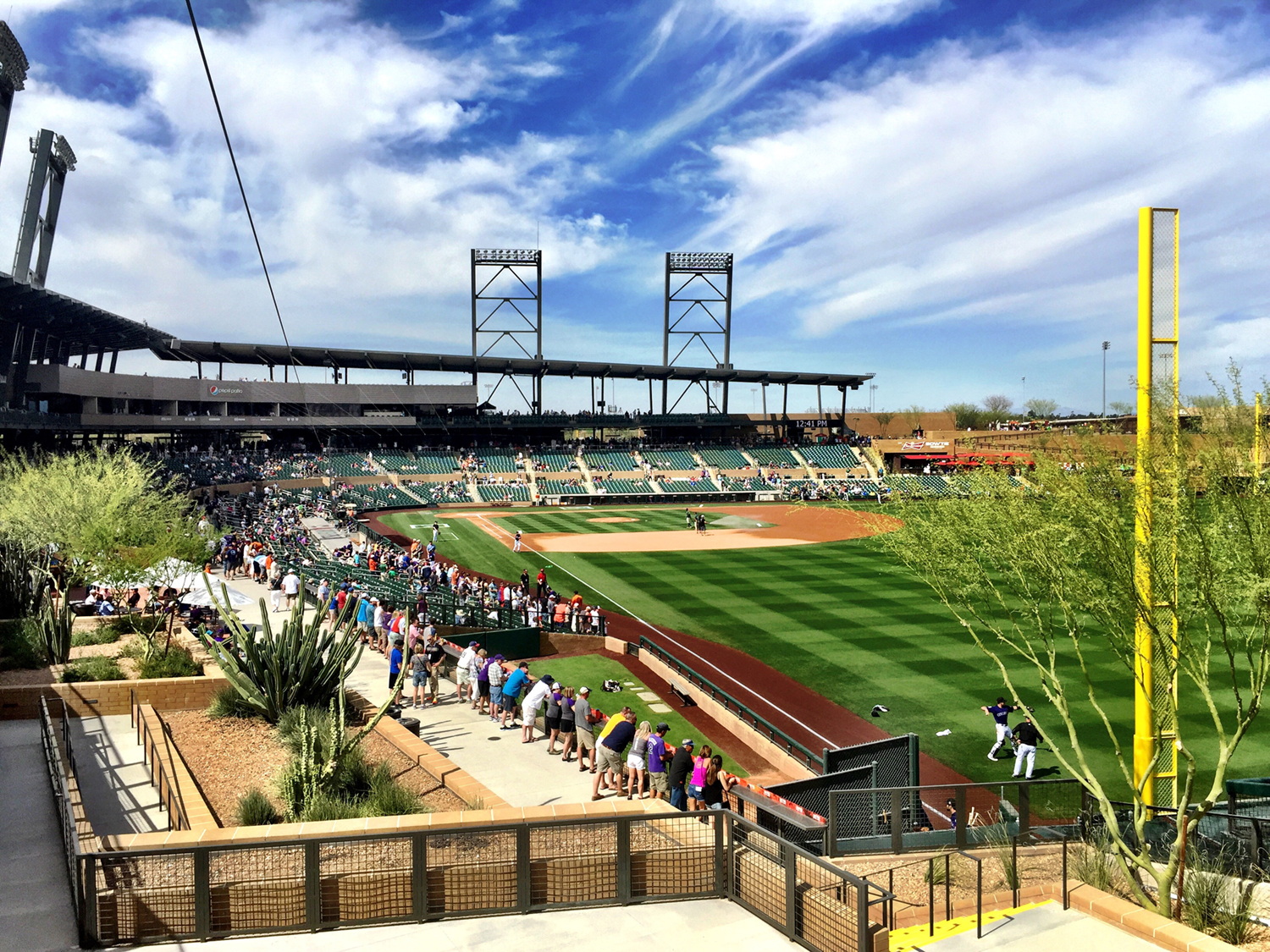 *Night games
This is a tentative Cactus League 2019 spring training schedule, subject to change and additions. There will be more information to come: game times and more exhibitions as we get closer to 2019.
For spring training news, sign up for the Spring Training Online newsletter by clicking here.
The modern Cactus League is now concentrated in the greater Phoenix area, making it easier for fans to hit multiple ballparks in multiple days, as well as taking in two games in a day as a day-night doubleheader at two parks. Add in the full schedule played by the Arizona State University Sun Devils at Phoenix Municipal Stadium — the former spring home of the Oakland Athletics — as well as games at GCU Ballpark, and you can a situation where you could have three or four straight days of day-night doubleheaders. You can begin planning your Cactus League 2019 spring training schedule at any time: teams will have at least one home game during any four- or five-day stretch, and given the close proximity of spring-training ballparks in the Phoenix area, you'll have an easy time seeing plenty of your favorite squad.
ALB = Albuquerque Isotopes
ATL = Atlanta Braves
AZ = Arizona Diamondbacks
BOS = Boston Red Sox
CHC = Chicago Cubs
CWS = Chicago White Sox
CIN = Cincinnati Reds
CLE = Cleveland Indians
COL = Colorado Rockies
HOU = Houston Astros
KC = Kansas City Royals
LAA = Los Angeles Angels
LAD = Los Angeles Dodgers
MIL = Milwaukee Brewers
MIN = Minnesota Twins
NASH = Nashville Sounds
OAK = Oakland Athletics
OMA = Omaha Storm Chasers
SD = San Diego Padres
SF = San Francisco Giants
SEA = Seattle Mariners
TEX = Texas Rangers
TOR = Toronto Blue Jays
To receive Cactus League 2019 spring training schedule news and schedule updates via email, please sign up for the Spring Training Online email newsletter.