At one point it was regarded as state of the art when it came to spring-training venues, but today Baseball City, the former spring-training home of the Kansas City Royals, is being dismantled to make way for a new housing development. Why did Baseball City fail? Some say the location wasn't that great, despite being located next to a main freeway (I-4) close to Orlando. Baseball City was also part of the Boardwalk and Baseball theme park, a project that never took off and was finally closed down on Jan. 17, 1990.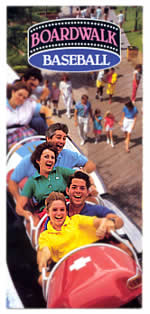 Originally developed in 1973 as Circus World by the owners of the Ringling Bros. Circus, Boardwalk and Baseball opened in 1987 by textbook publisher Harcourt, Brace and Jovanovich themed as a turn-of-the-century boardwalk featuring the ballpark, exhibits from the National Baseball Hall of Fame in Cooperstown and various thrill rides. The biggest attraction outside of spring-training season was the Royal Lipizzaner Stallion Show, held in a 2,000-seat wooden arena. At the end it was owned by Anheuser-Busch, but when A-B pulled the plug on the theme park, the Royals' attendance plummeted, leading the team to make plans for an Arizona move.
Ironically, Baseball City is now surrounded by the bustle of construction, as a Miami-based real-estate development corporation, Victor Posner Enterprises, has developed the 366 acres formerly occupied by Boardwalk and Baseball into a housing/office development.
The ballpark seated 8,000, while the complex featured five full-sized fields, offices and player dorms.
These photos were taken in August 2003.
Here you can see a crew dismantling the stadium. The seating is being donated to local high schools for use at their athletic fields.
Even though the Royals trained here in 2002, it didn't take long for Mother Nature to start reclaiming the land.