Yankees fans love spring training and return for more every March, as Steinbrenner Field is a much more democratic place than the new Yankee Stadium, as we hope you see In Yankees 2023 Spring Training. There's really not too much of anything. There are just enough suites to entice the moneyed (and many of the 12 luxury suites are leased by local firms, not expatriate New Yorkers), and just enough high-end seating in the first few rows of action to please big-buck fans. And the addition of right-field picnic tables and bar seating may be more expensive than almost all the grandstand seating, but it's not outrageous. It is a ballpark built for Yankees fans.
New York Yankees Home | If You Go … | Yankees 2023 Spring Schedule | Minor League Schedule | Roster
STEINBRENNER FIELD
| | |
| --- | --- |
| Capacity | 10,200 |
| Year Opened | 1996; renovated in 2017 |
| Dimensions | 318L, 399LC, 408C, 385RC, 314R |
| Surface | Grass |
| Local Airport | Tampa |
| Tickets on Sale | To be announced |
| Ticket Prices | To be announced |
| Ticket Line | 800/745-3000 |
| Ticket Web Site | mlb.com |
| Address | 1 Steinbrenner Dr., Tampa, FL 33614. If your GPS chokes on that address, use this alternative address: 3802 Dr Martin Luther King Jr Blvd., Tampa. |
| Directions | Take I-275 to North Dale Mabry (U.S. Hwy. 92), exit 41B (old 23). Proceed north approximately three miles. Steinbrenner Field will be on your left, directly across from Raymond James Stadium. Follow the signs for parking, as you'll park on the opposite side of Dale Mabry from the ballpark. |
---
New York Yankees 2023 Spring Training: Steinbrenner Heaven
It was one of the last large ballparks built for spring training lacking a concourse level ringing the entire playing field; at Steinbrenner Field, most fans are expected to stay in their seats and watch the action, not walk around and view the action from many different levels. (That's not totally true anymore; with the addition of a party deck and bar in the right-field corner, the ability to move around the ballpark while watching the game was greatly enhanced.) The grandstand has two levels and comprises most of the seating in the stadium, while there are 12 luxury suites relatively far away from the action.
In fact, there are no bleacher seats or general-admission seating at all in Steinbrenner Field, as all the seats are reserved armchair seating. Box seats and field seats have padding.
If you're a Yankees fan, Steinbrenner Field is nirvana, a shrine to Yankeedom. There are plenty of nice New York touches outside the ballpark. Former Yankees greats are immortalized in a walking area outside the front gates: 16 Yankees have had their numbers retired, and these former greats are honored with plaques. Like the Mets, the Yankees commemorate 9/11 with steel originally part of the World Trade Center. And, to top things off, a lifesize bronze statue of George Steinbrenner was installed before Spring Training 2011.
If you're not a Yankees fan, you may not be quite enthused. It's a very businesslike park, lacking all the informality that makes spring training such a wonderful experience for both fans and players. Want an autograph? Fudgetaboutit. The Yankees train on a two-diamond field next to the ballpark and then enter the ballpark without stopping to greet the fans. There's no berm in the outfield, so you couldn't get close to Derek Jeter if you wanted. The concessions are located on a concourse behind the grandstand, and while they are very extensive, they feel like they're in a different world than the actual ballgame. It's also worth noting that Steinbrenner Field sports the biggest souvenir store, The Legends Room, in the Grapefruit League.
Locationwise, Steinbrenner Field is centrally located in Tampa. It's located only three miles from the airport and directly across from Raymond James Stadium (home of the NFL's Tampa Bay Buccaneers), so if you fly into Tampa chances are good you'll see it from the airplane during your approach.
Spring Training History
The New York Yankees have held spring training in the following locations: Baltimore (1901); Savannah, Ga. (1902); Atlanta (1903-1904); Montgomery, Ala. (1905); Birmingham, Ala. (1906); Atlanta (1907-1908); Macon, Ga. (1909); Athens, Ga. (1910-1911); Atlanta (1912); Hamilton, Bermuda (1913); Houston (1914); Savannah, Ga. (1915); Macon, Ga. (1916-1918); Jacksonville (1919-1920); Shreveport (1921); New Orleans (1922-1923); St. Petersburg (1924-1942); Asbury Park, N.J. (1943); Atlantic City (1944-1945); St. Petersburg (1946-1950); Phoenix (1951); St. Petersburg (1952-1961); Ft. Lauderdale (1962-1995); Tampa (1996-present).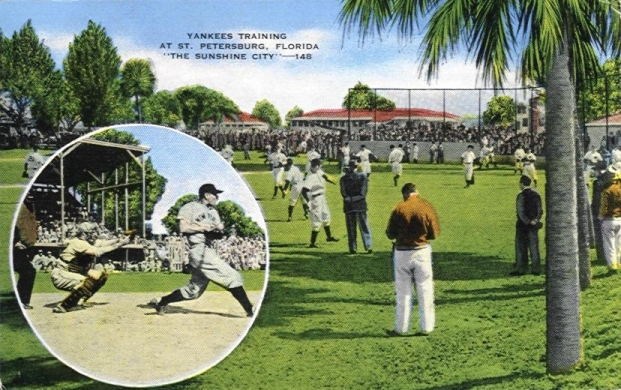 The Yankees may have played games at Al Lang Field, but they trained in a neighborhood facility. The same training facility had two names while the Yankees held spring training in St. Petersburg: Miller-Huggins Field (shown above) and Crescent Lake Field (below). The clubhouse there still stands with some original lockers used by the likes of Babe Ruth and Lou Gehrig.
Ballpark History
Steinbrenner Field has been the spring-training home of the New York Yankees since it opened. Before that the Yankees trained at Fort Lauderdale Stadium, formerly the spring-training home of the Baltimore Orioles.
To receive spring-training information and schedule updates via email, please sign up for the Spring Training Online email newsletter.