Ballpark History
Tinker Field, Orlando
TINKER FIELD
| | |
| --- | --- |
| Year Opened | 1963 |
| Capacity | 5,014 |
| Dimensions | 340L, 425C, 320R |
| Surface | Grass |
| Local Airport | Orlando |
| Address | 287 South Tampa Av., Orlando. The ballpark is part of the Citrus Bowl complex, right off the East West Expressway. Just take the Tampa Avenue exit north and the ballpark is to your left. |
We include this for archival purposes. The Tinker Field grandstand was torn down in May-June 2015.
Tinker Field was the long-time spring-training home of the Minnesota Twins and home to many Class AA Southern League and Class A Florida State League teams, most recently the Orlando Rays. in fact the stadium looks exactly like it did after the Rays' final game there. Signage for the Rays is everywhere and there are still taps in the beer booth, although most everything else in the ballpark is rapidly deteriorating. It's more like a ghost stadium than a real ballpark.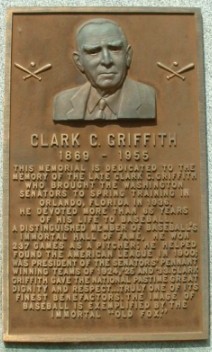 Which is a shame, since Tinker Field is one of the most historic baseball spots in Florida. Baseball has been played at this site since 1914, and the stadium was named after Joe Tinker — he of "Tinker to Evers to Chance" fame — who came to Orlando after his playing days and is buried there. The original 1,500-seat wooden Tinker Field was built in 1923 and served as the spring-training home of the Cincinnati Reds from 1923 through 1933. The Brooklyn Dodgers trained there in 1934 and 1935. In 1936 Clark Griffith moved the Senators' spring training to Tinker Field, and for many years the Twins' AA affiliate played at Tinker Field. Almost 1,000 of the seats were moved to Tinker Field from Griffith Stadium when it closed.
It's a shame that Tinker Field is now basically a glorified high-school field, because it's actually a pretty decent ballpark that just needs some TLC. Even though baseball has been played at Tinker Field since 1914, the present Tinker Field configuration dates back to 1963 and has been updated several times since. It features an open design: the press box is totally open to the crowd, and a set of fans sit in the back of the grandstand. A concourse area in back of the grandstand contains concessions, ticket offices and team offices. There's plenty of room in this back concourse, which was obviously designed more to accommodate large crowds,
The area surrounding Tinker Field has changed dramatically as well. Originally the entire area was open space, but over the years a commercial district, a freeway and the Citrus Bowl encroached on the Tinker Field ambiance. Since the Rays left, various youth teams have played at Tinker Field, and its future is under some debate. It has definitely fallen into disrepair — the wooden bleachers are warping something fierce and the metal box seats are rusting away — and at some point the city will need to decide what to do with the facility. In 2015 the city proposed tearing down the Tinker Field grandstand, turning the field into an open area to serve Citrus Bowl attendees, and building a new, smaller ballpark across the street. That plan was put on hold after an outcry from Tinker Field advocates, but the current condition of Tinker Field is not sustainable.