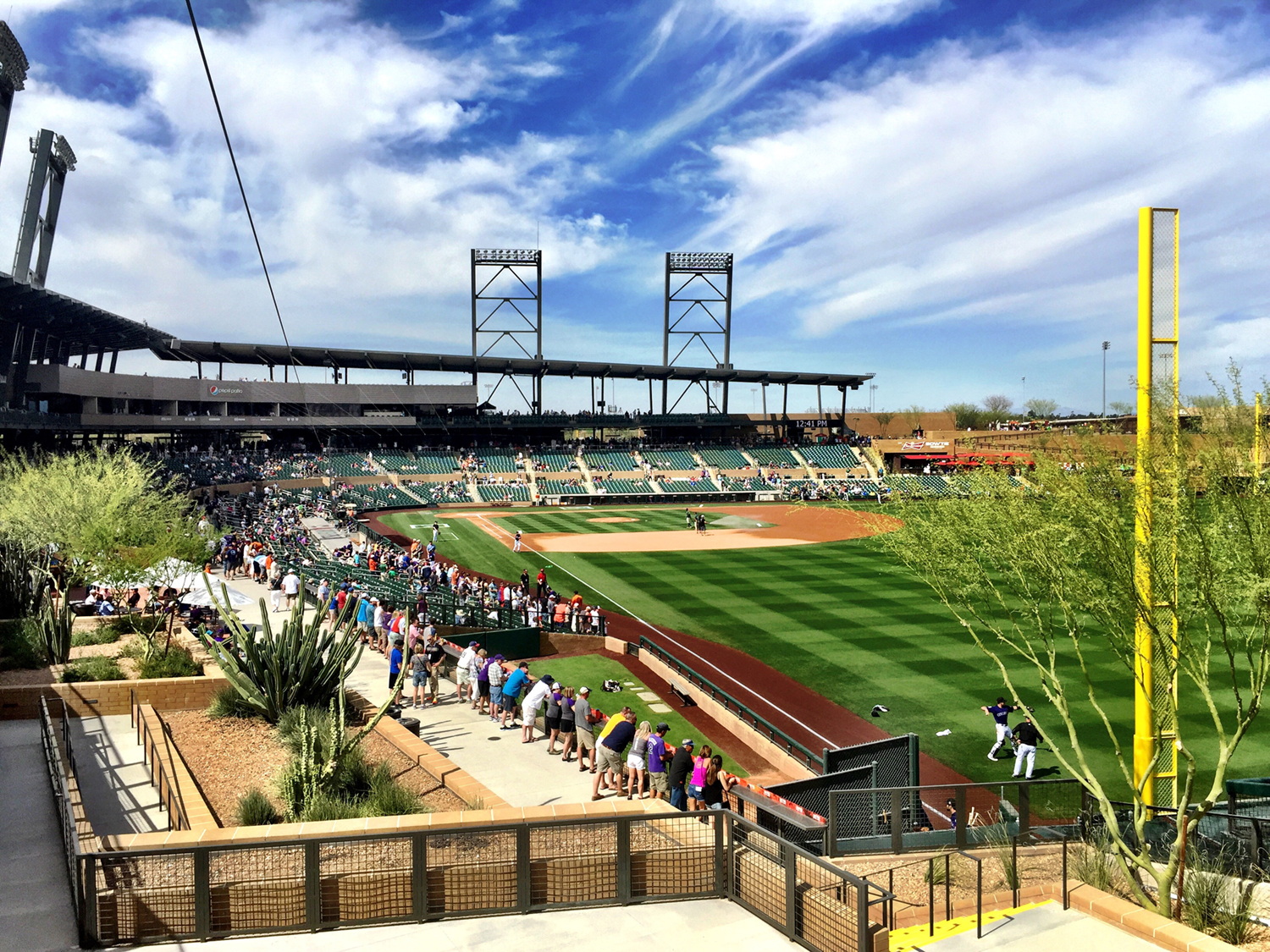 After several rounds of voting with over 12,000 individuals participating, readers of Ballpark Digest and Spring Training Online chose Salt River Fields at Talking Stick as the leading Cactus League spring-training facility in the websites' annual Best of the Ballparks polling, with 70 percent choosing the spring home of the Arizona Diamondbacks and Colorado Rockies.
"Salt River Fields has redefined what it means to take in a spring-training game, from the unique training-field layout and access to players to a perfectly designed ballpark with lots of shade, great sightlines, and multiple vantage points for game action," said Kevin Reichard, Ballpark Digest publisher. "Every spring-training game at Salt River Fields has the potential to be a totally new and unique experience."
Salt River Fields opened for spring training 2011 in partnership with the Salt River Pima-Maricopa Indian Community (SRPMIC) as the first spring-training complex to be built on Indian land in the nation. The complex includes the 11,000-capacity ballpark, 12 practice fields and separate clubhouses and training facilities for both teams. It was a groundbreaker in another important way: it was the first LEED Gold-certified ballpark in the United States.
This is not the first time Salt River Fields has recognized by Ballpark Digest: Salt River Fields was chosen as the Best New Ballpark in the annual Ballpark Digest Awards in 2011, with HKS Sports & Entertainment Group cited for the facility's unique design.
"The Salt River Pima-Maricopa Indian Community, the Arizona Diamondbacks and the Colorado Rockies built Salt River Fields with the desire for the fans to have the best game day experience they could possibly have," said David Dunne, Salt River Fields General Manager. "With beautiful sightlines and an up-close perspective to the players and the game, we are all proud of the success the facility has achieved in six seasons. This award is testimony to the fact that the vision of these three entities has come to fruition, and we are all so happy the fans enjoy their time at Salt River Fields."
We began by ranking all 10 Cactus League MLB ballparks, beginning with Salt River Fields and Sloan Park on the top and Hohokam Stadium and Maryvale Baseball Park on the bottom. Our ratings are based on a number of soft criteria, but it's all centered on a simple proposition: what facility offers the best fan experience? This is, of course, all relative: honestly, the difference between #3 and #9 on this ranking isn't all that great, and you could argue a totally plausible ranking using your own criteria that differs greatly from this one. But then again, the votes from thousands of spring-training fans have totally followed our seeds, so we must be doing something right.
Here is our ranking of Cactus League ballparks.
Salt River Fields at Talking Stick
Sloan Park
Scottsdale Stadium
Camelback Ranch-Glendale
Peoria Stadium
Tempe Diablo Stadium
Surprise Stadium
Goodyear Ballpark
Hohokam Stadium
Maryvale Baseball Park
Here are the brackets for the voting:
ABOUT THE BEST OF THE BALLPARKS CONTEST
This is the second year for the Best of the Ballparks fan voting, where Ballpark Digest asks its readers to weigh in on their favorite MLB, Triple-A, Double-A, High-A, Low-A, Short Season A, independent, summer-collegiate, spring training and collegiate ballparks. Over 91,000 individuals voted in the 2015 competition, generating over a million votes.
ABOUT BALLPARK DIGEST/SPRING TRAINING ONLINE
The leading Website covering the culture and business of baseball since its inception in 2002, Ballpark Digest (www.ballparkdigest.com) has been called an "indispensable" guide to baseball and ballparks by The New York Times; it's been used as a source by publications and websites ranging from The Wall Street Journal to Epicurious.com. Spring Training Online (http://www.springtrainingonline.com/) is the leading guide to spring training on the Internet. August Publications is a publisher based in Middleton, Wis. Besides Ballpark Digest, August Publications websites include SoccerStadiumDigest.com, FootballStadiumDigest.com and ArenaDigest.com.